by Andy Knight
Alexander and His Terrible, Horrible, No Good—Yet Everlasting—Day
Alexander is having—you guessed it—a terrible, horrible, no good, very bad day. He wakes up with gum in his hair, trips on his skateboard and drops his sweater in sink water. At breakfast, he's the only one of his brothers who doesn't find a prize in his cereal box and in the carpool, he's the only one without a window seat.
Perhaps he should move to Australia…
At school, all the students show the teacher, Mrs. Dickens, their drawings. Mrs. Dickens loves Audrey's drawing of a house and compliments Albert on his portrait of his family—so why doesn't she like Alexander's invisible castle? "Too much imagination," she says. Then it's time for the students to practice their singing for the school concert. Nobody wants to sing with Alexander until Mrs. Dickens makes them. Alexander tries his very best, but is scolded for singing too loudly. Thank goodness it's time for recess.
Unfortunately, recess doesn't go much better. No one will play with Alexander or tag him in the big game of tag. "How come you're being so mean to me? I'm your best friend," Alexander asks Paul. "You used to be my best friend," Paul says. "Now you're only my third best friend."
What a terrible, horrible, no good, very bad day. Things can't be this bad in Australia.
What's the only thing that could make Alexander's day more terrible? A trip to the dentist! At the dentist, Alexander is the only brother to have a cavity. And then, at the shoe store, Alexander is the only one forced to buy plain old white sneakers. Could things get any worse?
The answer is YES—poor Alexander can't seem to catch a break. Perhaps it really is time to move to Australia. Or perhaps—just perhaps—if he makes it through today, tomorrow will be better.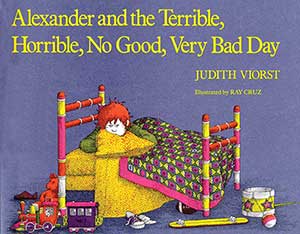 Since it was first published in 1972, Judith Viorst's Alexander and the Terrible, Horrible, No Good, Very Bad Day—the children's book on which the musical is based—has become a favorite among young readers and their parents and has sold more than seven million copies worldwide. It's a simple story, told concisely by its direct (and increasingly frustrated) narrator, Alexander, who faces a litany of indignities over the course of a day. And while it's amusing to hear his complaints about lima beans for dinner and kissing on TV, there's also something universally relatable about the agony of a bad day. Relatable—and, perhaps, quietly comforting.
"It's a useful idea because it suggests that there's a beginning and an end, like maybe tomorrow will be better," Viorst said in a 2014 interview about the book with Entertainment Weekly. "And everyone has bad days, and when you're having a bad day, you think, 'Here I am being singled out by a hostile, malicious universe that is picking exclusively on me.' And then you read a book about bad days and realize they happen to everyone, not just tormented, persecuted you. I think there is something consoling about that."
Alexander's initial success paved the way for two subsequent books featuring the headstrong, sometimes irascible little boy— Alexander, Who Used to Be Rich Last Sunday (1978) and Alexander, Who's Not (Do you hear me? I mean it!) Going to Move (1995)—and in 2014, Viorst released a fourth book in the series, Alexander, Who's Trying His Best to Be the Best Boy Ever. With nearly 50 years in the canon of children's literature, it's no surprise that the character of Alexander has found his way into other mediums, as well. In 1990, Alexander and the Terrible, Horrible, No Good, Very Bad Day was adapted into a 30-minute animated TV special and in 2014, a feature film was released with a starry cast that included Steve Carell and Jennifer Garner.
But perhaps the most delightful adaptation of the picture book is Viorst's own—that is, the 55-minute musical adaptation she co-wrote with composer Shelly Markham. Viorst said that collaborating on the musical was "one of the great pleasures of my life." And it's not hard to see why. While the musical version stays true to the book's plot—and its core message—it shines a light on the protagonist's vivid imagination, which springs to life in show-stopping numbers like "Australia" and "Shoes." The musical first premiered at the Kennedy Center for the Performing Arts in Washington, D.C., in 1998 and has since been performed across the country. And now, South Coast Repertory is thrilled to bring it to a new generation of theatregoers.
SCR's production of Alexander and the Terrible, Horrible, No Good, Very Bad Day is directed by Kari Hayter. With a number of successful musical theatre productions under her belt—including last season's Nate the Great at SCR—Hayter was a natural fit for the project and her production promises to be equal parts energy, humor and heart. Hayter is joined by music director Diane King Vann, who last appeared in SCR's hit production of Once in 2017. Vann has a long history with SCR behind the scenes, as well: she was the theatre's resident composer for many years and served as music director on a number of productions including Good and Marry Me a Little. (Fun fact: Vann is also the author of a children's book called Mr. Prickle Bear!)
Alexander's design team includes Deborah Wicks La Puma (musical arrangements), Fred Kinney (scenic design), Elizabeth Cox (costume design), Andrew Schmedake (lighting design) and Jeff Polunas (sound design). The cast includes Austyn Myers, who makes his SCR debut in the role of Alexander; Janna Cardia, Robert Collins, Cristina Gerla and Mitchell Gerrard Johnson, who also make their SCR debuts; and Ricky Abilez and Monika Peña, both of whom return to SCR after appearing in recent productions at the theatre.