by Christina Cordano and Beth Fhaner
An Interview with "Nate the Great" Playwright John Maclay
More about John Maclay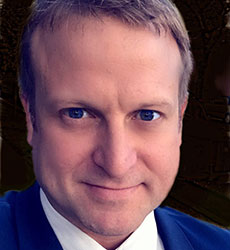 John Maclay is a playwright who specializes in adapting works for young audiences. His plays and musicals include Goosebumps the Musical: Phantom of the Auditorium (with Danny Abosch), Geronimo Stilton: Mouse in Space, Just a Little Critter Musical (with Brett Ryback), Nancy Drew and Her Biggest Case Ever (with Jeff Frank), Anatole (with Lee Becker and James Valcq) and a new version of Robin Hood (with Joe Foust). His upcoming projects include writing words for the new musical, The Legend of Rock Paper Scissors, and a new play about Greek mythology. In addition to a busy schedule as playwright and adaptor of literature for the stage, Maclay serves as director of artistic development at First Stage in Milwaukee, Wis., one of America's largest and most respected theatres for young audiences. ​He has been working with First Stage in one form or another since 2000 and has directed or appeared in more than 25 First Stage productions (from classics to world premieres), as well as produced more than 50 productions for the First Stage high school programs. His work as an actor or director has also been seen at the Utah Shakespeare Festival, Chicago Shakespeare Theater, Milwaukee Shakespeare Company, Defiant Theatre, Bunny Gumbo, Bialystock & Bloom, Skylight Opera Theatre and others. When not doing all of that, he is busy teaching theatre at Carthage College in Kenosha, Wis.
Playwright John Maclay specializes in adapting works for young audiences, and he's excited to bring Nate the Great, a kid detective musical, to SCR's Julianne Argyros Stage from Nov. 2-18, 2018. In our Q&A, learn more about Maclay and why he aims to write "family theatre" rather than "children's theatre."
What was your path to writing plays? 
I was trained as and worked as a classical and musical actor first, and then I evolved into a director. I found myself at the children's theatre First Stage in Milwaukee and just fell in love with the importance of the work of theatre for young audiences. After a bit, I began directing a lot of new works—specifically adaptations for young people and think I became hungry to just do one myself. And then writing one play led to 10. I still act and direct a bit, but writing is my greatest passion.
How and when did you first come across Marjorie W. Sharmat's Nate the Great?  
I actually read the books as a child (they were new then) and then read them to my son. I just love them and always thought they would make a great family musical. I've been wanting to create this show ever since I wrote the words for my first musical. I have great affection for mysteries as theatre, so that helped. But mostly, I just love the trio of characters (Nate, Annie, Rosamond) at the center of the story. All three characters are such characters. So quirky and fun. I wanted to hear them sing.
What is the difference between writing a play for children and a play for adults? 
For me, I don't know that there is much difference beyond subject matter. This is a show based on a book intended for children so the vocabulary and subject matter are appropriate for younger audience members. However, I do try to write "family theatre" rather than "children's theatre." As such, I want a show that is enjoyed by the whole family. Children are at the center of that, of course, but I want Mom and Dad and teachers to enjoy it, too. Otherwise, I don't think it's too different. Great children's theatre requires the same quality as any other theatre, which is why it's so great to see it at a place like South Coast Repertory, where the quality and rigor have the same standards for children's theatre as any other style or type of theatre. 
What do you hope audiences will take away from Nate the Great?
I try to focus on writing a good story more than delivering a "moral." But with this one, a couple of ideas were obviously traveling with me throughout the writing process. The value of art is clearly there, but also the value of perseverance, picking up your friends when they're down, creative thinking and keeping an open mind to new ideas. These are all things I think we can't get too much of in our lives.
Oh, and pancakes. I hope you leave the theatre and have some pancakes. Because you? You deserve some pancakes.