by Christina Cordano and Beth Fhaner
Four Questions with "Nate the Great" Composer Brett Ryback
More about Brett Ryback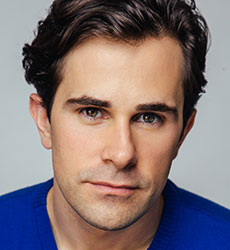 Brett Ryback is an actor, composer/lyricist and playwright based in Los Angeles. He is the recipient of the ASCAP Foundation's Cole Porter Award. His plays and musicals include Joe Schmoe Saves the World (National Alliance for Musical Theatre 2016, ASCAP/ Dreamworks Workshop), Liberty Inn: The Musical (Ovation Award nominations: Best Book, Best Music/Lyrics), Darling (Weston Playhouse New Musical Award), The Tavern Keeper's Daughter (Best Musical, Pasadena Weekly) and Just a Little Critter Musical (First Stage). His plays Weïrd and A Roz By Any Other Name are both published in The Best American Short Plays 2007-2008. His musical Passing Through was developed at the Rhinebeck Writer's Retreat and the Johnny Mercer Writers Colony at Goodspeed Musicals, where it was recently featured in their New Works Festival. As an actor, he originated the role of Marcus off-Broadway in Murder for Two. His SCR appearances include the world premieres of SHREW!, The Prince of Atlantis and Doctor Cerberus. His recent TV and film appearances include "Mom," "Modern Family," "How I Met Your Mother," Hail, Caesar! and the Lifetime movie The Assistant. Ryback is writing a musical podcast called In Strange Woods. He created the online accompanist website PlayThisForMe.com and he teaches musical theatre at the University of Southern California. brettryback.com
As an actor, composer/lyricist and playwright based in Los Angeles, Brett Ryback believes a good story has the power to change the way people feel, think and act. He appeared recently onstage at SCR as Lucentio in the world premiere of Amy Freed's SHREW! This time around, he's back as the composer/musical director for the kid detective musical, Nate the Great, which kicks off SCR's theatre for young audiences season on the Argyros Stage (Nov. 2-18, 2018). Learn more about Ryback and the musical "styles" of Nate the Great in our Q&A.
How would you describe the music in Nate the Great?
There are two main "styles" of music in this show. There's Nate's music, which leans towards jazz and big band—styles that are usually associated with film noir and private-eye stories. You can hear it in all of Nate's songs, and also a little bit in "Fang Tango" and "The Hexes," too. And then there's Annie's music, which is more colorful, playful and lyrical. That style is on display in "Art Matters," "Colors" and also "Monster."
As a composer, how do you approach writing a song?
It always varies, but I usually start by asking a lot of questions. What is the character feeling when they sing, or what do I want the audience to feel? What does the character want, and what is the conflict that is making it difficult for them? I translate the answers to these questions into musical gestures—harmonies, rhythms, motifs, etc. Then once a lyric is written, I'll start to sing whatever comes into my head and craft the rest of the melody from there. But no matter what, the story always comes first.
You're also an actor—how does that inform your writing?
My writing and my acting absolutely inform one another. When it comes to music, you're practically dictating the exact way a line of music is going to be performed—how loud, how fast, how high, how low. So you're doing a lot of the acting work for the actor. Therefore, when I'm writing a song, I think about the acting process that an actor will go through to bring a moment to life. This helps me create melodies or lyric scansions (how the lyric is rhythmically situated) that support the actor's intention. On a bigger level, I also think about things like how does this character talk, or what style of music do I identify with this character. I also think about what a character's super-objective or bottom line is. This helps me decide what musical moments need to really land, or sing out, and which themes are going to be important to craft the character's arc. Hopefully, you can see how acting and writing come from the same creative place!
Do you have a favorite character in Nate the Great?
Yes, but don't tell the other characters. My favorite character is Rosamond. I love how unapologetic and bizarre she is. She's the best kind of character to write for. I was able to give her a super unique musical voice and also some of the best lyrics in the whole show.