By Brian Robin
How SCR Builds Sets
Jon Lagerquist carries the title "Technical Director," a title that doesn't begin to describe what he does, how he does it—or how many things he and his team need to do to build the sets you see on stage.
To start, Lagerquist is a problem solver. But again, that simply begins and ends his duty list without adequately explaining what goes into solving those problems. In between, he's a draftsman. He's an accountant. He's a diplomat. He's a logistics manager. He's a contractor. He's a carpenter. …
Above all, he's the Reality Whisperer.
Lagerquist oversees the five-person staff that takes a set designer's vision and makes it real. Installing reality is Lagerquist's job. And it's a job that comes with endless demands on his considerable skill set.
"This is where we put reality into the process, because it actually has to work," he said about the sets he and his staff build. "What is the design trying to do and how can we accomplish that? And if we can't accomplish it exactly in that way, what can we do that will still provide the desired effect and still meet all the other requirements it has to do: time, budget and all the other resources we have to play with. It has to be able to do it not just once, but every day for the entire run.
"You figure out a solution. That sometimes means you sit there and you play with lots of different ways of going around it until hopefully, you come up with one that—often is—the simple solution that you've finally figured out."
Building a set starts with the set designer for a given show. Lagerquist will get a design package from the designer that shows a plan of the set, along with the needed materials and any other special instructions. Lagerquist takes that package and comes up with an estimate of what it takes to build the show—in terms of not only money, but time, labor and space.
"The laws of physics still apply. Sometimes, that seems like it's a surprise to people," he said. "But then, it's time and space. We don't have the time to build that. Not that I don't know how to build it or that we couldn't. But I don't have all of the resources, the space, money, time, bodies, skill sets. All those things come into play. Or I don't have time to do that and everything else we want in the project."
Lagerquist said Quixote Nuevo took a fair amount of figuring out before he could put a dollar figure to Set Designer Efren Delgadillo Jr.'s design, because of the mountains and hills, "it wasn't a traditional piece of scenery." That process started in late July, as Lagerquist and his team were finishing the set for the Outside SCR production of La Havana Madrid at Mission San Juan Capistrano.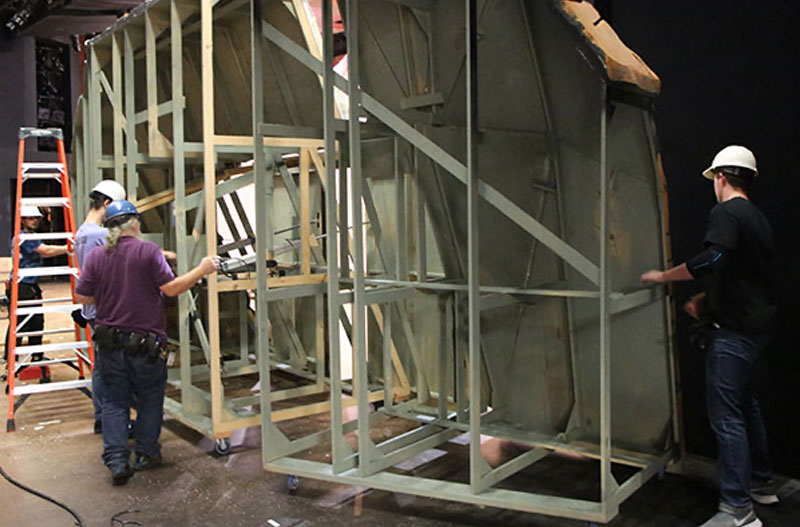 Above, Jon Lagerquist, center, works with other staff member loading in the set for Quixote Nuevo.
The process for Quixote Nuevo took "a lot of back and forth" to hit the budget. Back and forth that involved taking one inch off the size of the rocks comprising the hills. There was a lot of time spent measuring model pieces of rocks to make sure every piece would fit its designed place.
"You have to know how you're going to build it before you can come up with that (cost)," Lagerquist said.
This is where his diplomat role comes in. Like the designer, Lagerquist is given a budget going in and his job is to bring in his work on or under budget. Sometimes, the result runs into resistance. So Lagerquist has to figure out a solution that works for all parties.
"Designers are trying to serve multiple masters, the company's budget requirement and the director's desires for the show," he said. "We're trying to put all those pieces together and we work back and forth until we come up with a solution.
"Can I make this smaller? If I make this smaller, it will save a significant amount of money. Hopefully, you're doing this in steps that are appropriate for the amount of money you need to adjust. … eventually, you come up with something we can build given our time and money."
From there, Lagerquist begins the drafting process. He breaks down the set into individual pieces. For example, on A Raisin in the Sun, Lagerquist showed an AutoCAD drawing of the walls of the Younger's house on his computer. He has to draft a design that allows the walls to seamlessly fit together, to come apart and to be mobile. Because every piece of the set needs to be transportable.
More on why mobility is important in a moment. But as he's drafting the set pieces, Lagerquist is figuring out what materials he needs to order from suppliers to build the set.
Drafting a show usually takes around five days, again, depending on the complexity of the set. Once the drawings are finished, the carpenters begin building. Once each set piece is finished, it's loaded on a truck and taken to SCR's paint shop a few miles away, where the scenic artists begin painting the pieces. This is an ongoing process that keeps everyone busy and keeps the process on the strict schedule it has to follow.
"Part of my job is to figure out what's going to be the fastest way to build something, figuring out what's the easiest, fastest way and what's going to be fast and accurate, working with the space, the tools and the people in the shop," Lagerquist said. "We don't have the real estate to wait on the whole set to be built and we want to get stuff in the painter's hands as soon as possible."
Once the painters finish the job, the pieces are trucked back to SCR for the load-in process. That's where the set is actually loaded onto the stage. Lagerquist said this is usually a two-to-three-day process. But even as he and his staff begin to build the next show …
"We never totally walk away. As they go into tech (the week before a show opens), we're going to deal with notes as the director and staff discover things," he said. …
"We pretty much need to be the first folks done. Everyone else's stuff lays on top of ours," he said, pointing out this is where the troubleshooting/problem-solving comes back in.
Here's where Lagerquist becomes logistics manager. Remember how every piece of a set has to be mobile? In the case of Quixote Nuevo, it not only has to be mobile enough to transport to the paint shop, it has to be mobile enough to transport to Seattle, then Portland. The show is a co-production with Seattle Rep and Portland Center Stage, sharing sets, costumes and props.
And Lagerquist already made preliminary arrangements to load and truck the set pieces, props and costumes up Interstate 5, where they'll sit in trailers for two months in Seattle. After that show's run, they'll head to Portland. That means packing the items securely to prevent damage and in an order that makes sense for unloading.
The physical process of building a set is an intense, two-to-three-week process that comes with different challenges each time. There were Quixote Nuevo's hills and mountains. On last spring's Coleman '72, there were 14 elements of automation, where Lagerquist had to figure out how to make the various actions work every night—without fail.
"We've done things where we have rolling units and units that had to spin," Lagerquist said. "When we did Of Good Stock (2015), we had a big piece that came out and rotated 180 degrees, but we needed it to only go 90, and it had another piece chasing it that it had to match with. It's a matter of figuring out those bits and pieces.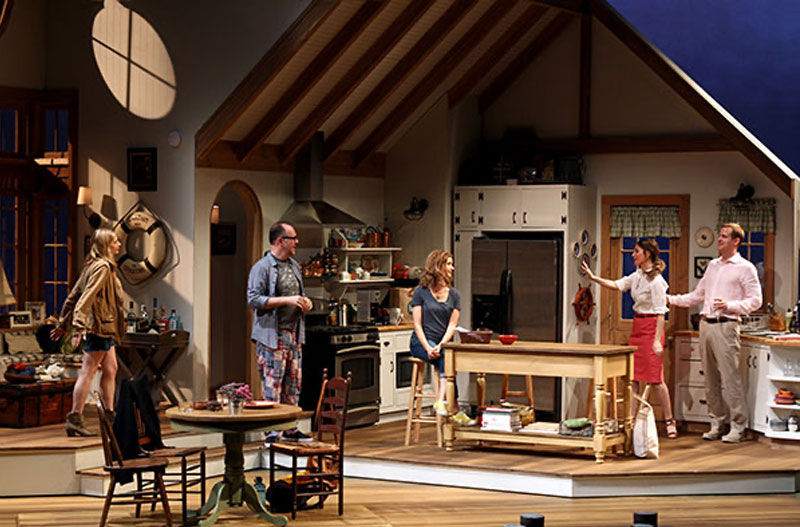 Andrea Syglowsi, Rob Nagle, Melanie Lora, Kat Foster and Corey Brill in South Coast Repertory's 2015 world premiere of Of Good Stock by Melissa Ross.
"Then, you've got a show that's complex in terms of molding and stuff. There were lots of other details to deal with and solve to make the pieces go together and work."
Making the pieces go together and work. It looks so easy once you see it on stage, because Lagerquist has been doing this at SCR for 38 years. His ability to wear every hat necessary to make the pieces go together and work is viewed in awe by his staff, the artists and artisans he works with—and generations of SCR audiences.
"I remember being involved in doing scenery stuff in high school. I got very involved," he said. "Yes, I can do this. I know how to build things. I can solve the problems. I've been doing it ever since."