by Beth Fhaner
Kids Learn the Audition Process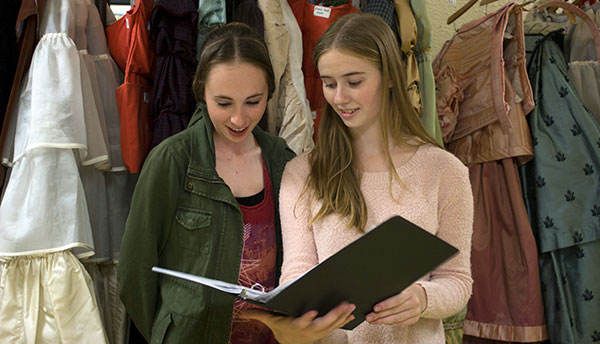 SCR's annual production of Charles Dickens' classic A Christmas Carol marks its 39th year in 2018. A favorite tradition for many theat​regoers at the holiday season, A Christmas Carol requires a large cast of actors. Kids play a big part in this show, with children's roles ranging from Tiny Tim and his brothers and sisters (the Cratchits) to Scrooge and Marley as boys, to street urchins, to beautifully costumed singers and dancers in the party scenes.
There are eight roles for children that are double cast, so 16 lucky kids have the opportunity to appear onstage in this beloved holiday show. Having two groups of children—"​Red" and "Green" teams—cast in this play also allows for the opportunity to build-in understudies for various roles.
After performances begin, the two teams of children will perform on alternate days with both casts performing one show each on both Saturdays and Sundays. Overall, each child who is cast will typically perform four shows per week on four days a week. With rehearsals scheduled for nearly every day after school and weekends, A Christmas Carol requires a great deal of commitment and dedication from each cast member.
Each child who is cast goes through an audition process, and it's a great honor to have the opportunity to audition. Selections are based on talent, a student's maturity, focus and the ability to follow direction and cooperate with others. So, what's a typical audition process like for the kids? One session involved a group of kids who ranged in age from 10 to 16, and they were there because they ​are longtime students in the Theatre Conservatory and faculty members had recommended them based on their strong work in class.
Conservatory Director Hisa Takakuwa enthusiastically greets the group and tells them they should all feel good about coming through the door. She then explains the audition process and notes that the "process of casting is complicated."
Every play has a certain type of story and energy, says Takakuwa. A Christmas Carol's energy is brightness, lightness and overt joy, and she's looking for a certain kind of energy to match the show. Additionally, Takakuwa is looking for specific ages, sizes and types, but she emphasizes to the students that whether or not they get cast, it's never a statement that they're not good enough. She's also looking to see if a student is mature enough and focused enough to handle the demands of a professional production. The students must be savvy, confident and able to jump-in quickly to the rehearsal process.
Once Takakuwa has conveyed the finer points of what to expect in an audition, it's time for the kids to begin with an improv exercise. The group is instructed to imagine that it's Christmas Eve back in 19th-century London, and each student must pantomime a job that they might have had during that time period. Working simultaneously, the students act out different roles such as a baker, seamstress and chimney sweeper, among others. Takakuwa then asks the students to move to different areas of the room while continuing their job duties. She also talks with the students about maintaining their focus and creating a real world for themselves without looking at the audience.
After the improv exercise is finished, the group moves on to reading scenes from the play. The kids are asked to read different roles from a short Cratchit family scene, and one student is asked to read another scene "cold" (without preparation). The kids all do a fantastic job reading scenes and approximately 40 minutes after the session has started, the audition process wraps-up. Final instructions are given for the next step in the process—after initial auditions are complete, specific children will be requested to return for a callback audition with Takakuwa, Director John-David Keller and Casting Director Joanne DeNaut. The students then turn in mandatory paperwork and file out of the classroom on a hopeful note, while the next group of kids eagerly awaits their chance to audition for A Christmas Carol.