by Tania Thompson, with photos by Leanne Covis
Making Theatre in the Time of COVID
In March, after a yearlong hiatus, South Coast Repertory returned to producing theatre—creating and filming the Theatre for Young Audiences Family show, Red Riding Hood, streaming April 21-June 13. SCR followed Actors' Equity Association guidelines, which included COVID testing, mandatory masks and other protocols. The skilled artisans in SCR's Production Department also worked under strict protocols to safely create the environment for the play.
"I feel so privileged to have been part of SCR's first production back from the pandemic, to have been in the test group for these protocols, and count myself as part of the team that demonstrated they can work," says actor Nell Geisslinger, who is making her SCR debut in Red Riding Hood. "This production feels like concrete proof that the theatre community will bounce back with more creativity and passion than ever before. That brings a lot of joy."
To learn more about the challenge of making theatre, we talked to a number of those involved with the creation of Red Riding Hood.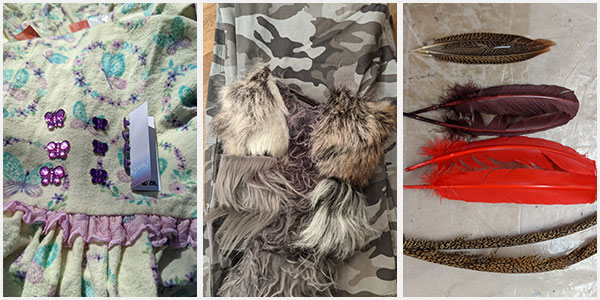 In the Shops
Costumes cannot be shared under the health and safety protocols, which was a challenge because the actors switch characters quickly between Red Riding Hood, Grand-Mama, the Wolf and the Woodsman—each actor portraying each character, but not at the same time. Costume designer Amy Hutto's solution called for each to have their own nightgown, red hooded cape, wolf gloves and close-fitting jerkin or vest.
Fittings were done remotely with the actors trying on costumes in their dressing rooms then showing them to the Costume Shop staff over FaceTime or Zoom. Costume pieces had to sit untouched for 24 hours before being delivered to actors Larry Bates and Nell Geisslinger. Once the actor had tried on the piece, notes were taken remotely and the costume piece sat, untouched, for another 24 hours before alterations could safely be made by stitchers in the shop.
"We became very flexible with the changes," says Ramzi Jneid, design assistant in the Costume Shop.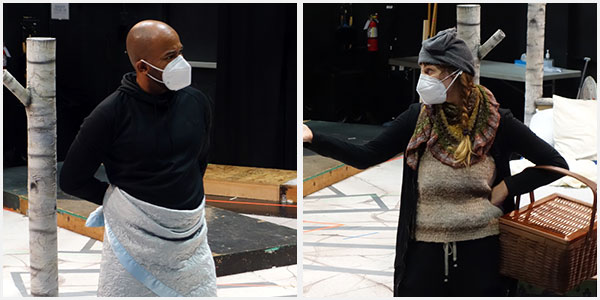 In Rehearsal and During Filming
Each day began with COVID testing, outside on Ela's Terrace at SCR before everyone directly working on the production gathered, socially distanced, in the Nicholas Studio for rehearsals. Six days a week, for three weeks, the actors worked with Flynn and her team to rehearse and fine-tune this play that would be filmed. Everyone in the room was distanced and masked.
Bringing a new play to life is a complicated process of creativity, practicality, intuition, elbow grease and team work. From her home in Texas, playwright Allison Gregory virtually sat in the California rehearsal room each day via Zoom, listen, watch the intimate dynamics between the characters and track the story.
"Plus, I was able to have crucial discussions with the actors and director in real time when necessary," Gregory says, crediting director Shannon Flynn with establishing a fun and collaborative environment. "She immediately put me at ease and made everyone feel confidant and excited about this project."
One of the adjustments for Flynn, an Emmy Award-winner, was looking at the play with an eye toward filming it.
"When you design for the theatre, you know that the audience will see the whole stage," she says. "For Red Riding Hood, the design team and I had to think about what we'd be able to see through the camera lens. During technical rehearsals, just before we filmed on the Segerstrom Stage, I stood at every point where the camera would be, to make sure that we had the best angles."
"So many things are hard-wired into a stage manager's DNA," says Kathryn Davies, who has stage-managed not only at SCR, but globally for theatre, opera and film festivals. "It was challenging to not just lean over and whisper something to the director of production assistant. We're so used to being quiet while actors rehearse and try not to draw attention to ourselves. Wearing masks and being physically distanced led to us text each other and use chat apps."
Normal parts of the rehearsal the stage management team include working with props and costumes and giving actors "prompts"—or reminders of script lines.
"Giving an actor a line from behind a KN95 mask was difficult," Davies says." "It was so muffled that we would repeat words or lines a few times in order to be understood. The actors were great about it and we had quite a few laughs!"
The theatre's health and safety protocol, developed with advice from the University of California, Irvine, saw the addition of an infection control specialist to the Red Riding Hood team. She focused on cleaning, advised everyone of best practices and kept protocols top of mind, the cast and others could focus on the work they needed to do.
"Everyone in the rehearsal room was on the same page and game to accept the challenges to create some fun theatre—and assume that everyone is smiling under that mask!" says Larry Bates, an SCR veteran of both Theatre for Young Audiences Family shows and mainstage productions. "I did miss the fun moments though that usually occur outside of rehearsal like grabbing a bite, grabbing a drink, having conversations and getting to know each other outside of the production."
Bates and Geisslinger rehearsed with only being able to see each other's eyes over the mask.
"When we finally got to take the masks off for filming—wow!" says Geisslinger. "We immediately started finding new things, getting more specific and detailed, and just having fun on the next level. Being able to see him was a joy. I'll never forget that and will never take it for granted."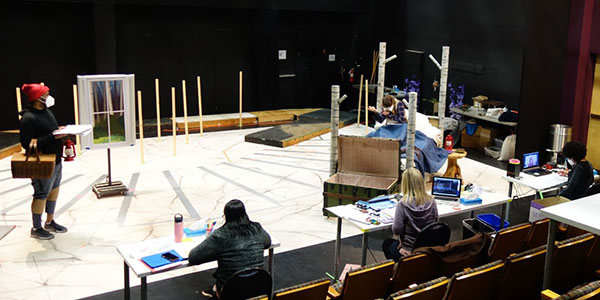 Perspectives and Looking Ahead
With filming completed for Red Riding Hood, the cast and creative team are eager for what's next.
For Bates, being a part of Red Riding Hood brought a measure of healing. "It has been a hard year for so many, especially in our industry," he says. "To be able to come to a rehearsal hall, collaborate and play—in in person—with this team was the definition of joy."
Jneid says nothing compares to the feeling of being back in the theatre: "To be back with creatives, happy and hungry for the chance to be doing something together again, was a rush; as was seeing coworkers stitch great pieces that translated beautifully on stage and screen."
Davies found the experience to be a joy from start to finish, and says, "Everyone was so happy to be back doing what we love. I'll take all the health and safety protocols you can throw at me in order to be back at work!"
Gregory looked back at lessons learned and ahead: "My hope is that, going forward, I will retain some of the useful habits I've developed during this extraordinary period," Gregory says. "Slowing down, being more thoughtful, more appreciative, nurturing specific goals rather than racing around like a banshee, savoring the people and places that bring me creative sustenance and