South Coast Repertory is excited to partner with Mission San Juan Capistrano for a second summer to provide you the opportunity to gather safely outdoors and experience family-friendly, world-class theatre under the stars.
SEASON PRODUCERS
Michael Ray
Apriem Advisors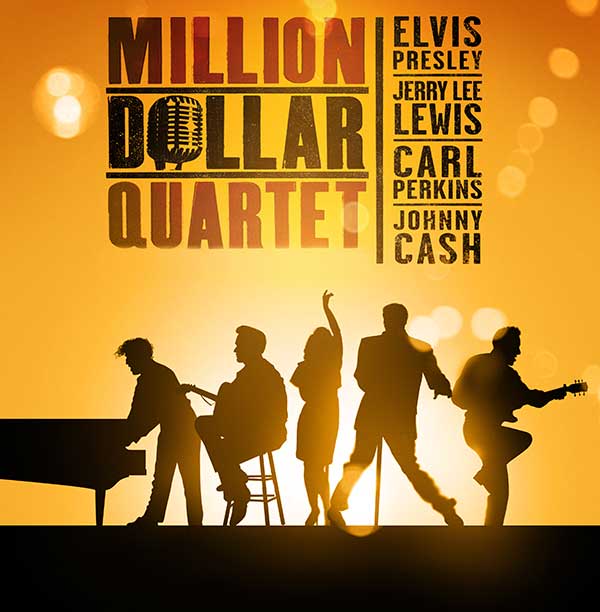 Million Dollar Quartet
Book by Colin Escott and Floyd Mutrux
Original concept and direction by Floyd Mutrux
Inspired by Elvis Presley, Johnny Cash, Jerry Lee Lewis and Carl Perkins
Directed by James Moye
July 30 - Aug. 21, 2022
All performances at 7:30 p.m.


On Dec. 4, 1956, Elvis Presley, Johnny Cash, Jerry Lee Lewis and Carl Perkins gathered for one night to play music and ended up making history. This Tony Award-nominated musical takes us inside one of the greatest rock 'n' roll jam sessions ever recorded with four legendary musicians doing what they loved most: expressing life's joy and sadness through song.  Described as "dazzling" by New York Magazine and "wildly entertaining" by Hollywood Reporter, Million Dollar Quartet will have you rocking down memory lane with more than 20 chart-topping hits like "Blue Suede Shoes," "Great Balls of Fire," "I Walk the Line" and "Who Do You Love."
Important information
For Million Dollar Quartet/Outside SCR at Mission San Juan Capistrano:
Because the performance is outdoors, at this time we do not anticipate the need for proof of vaccination/negative PCR test, nor will masks be required. For your safety, however, we strongly encourage masking any time you are outdoors in a crowd.